---
May 2023 – June 2023
ON SALE NOW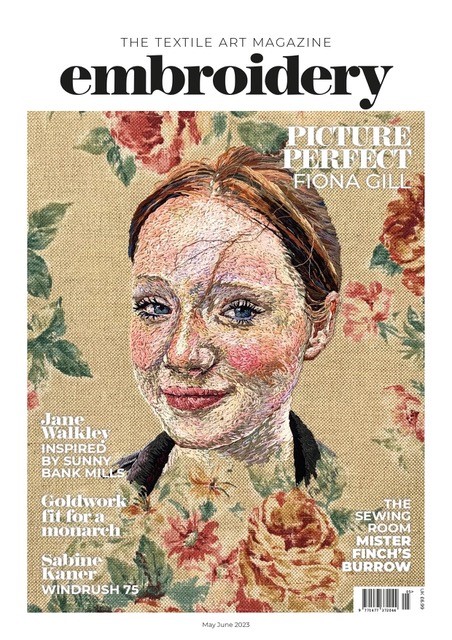 Welcome to our May/June 2023 issue!
Fiona Gill is the artist behind our cover girl, Bryony. From a chance meeting, Fiona embroidered this beautiful portrait, paving the way for a shift-change in her work. But where do Shrek and Princess Fiona fit into her story?
Elsewhere in the magazine, from the fresh talent of Yu Mei Huang, who has created experimental works in bubble wrap and knitting, to the established favourite Mister Finch, who lets us into his incredible imagination and just as magical studio world, this is an issue packed with interest.
Meet Lucy Newman, the winner of the Textile Art Open category in the Hand and Lock Prize for Embroidery 2022 and find out what direction her work is going in now. Discover the humorous skinny needle-felted world of characters by Kate Toms; take a look at the varied work by Prism Textiles in our meet the group feature; and marvel over the pure, joyful and culturally rich textiles of Saima Kaur.
One very special article looks at how Jane Walkley is basing her weaving work on Sunny Bank Mills, Leeds – it's nothing if not unconventional; while Richard Saja tells us of his new exhibition revealing his work with toile du jouy, which has often been labelled 'subversive'.
And with the coronation fresh in our mind, we take an in-depth look at goldwork, with Robert Ossant describing its uses in history and Laura Baverstock revealing her modern take on this age-old technique with some exceptional results. The RSN also brings us their top 16 coronation keepsakes.
Sabine Kaner concentrates on aspects of history she has lived, with her father having been on the first crossing for HMT Empire Windrush from Jamaica. Her textiles are unbelievably rich in surface detail but have deep meaning, too.
Finally, we take a look at the winners of Madeira's Colour Your Life! competition at the recent NEC Fashion and Embroidery Show, plus we have all your favourites, such as Embroidery Loves, Out and About, Between the Covers, Bookshelf, reviews and What's On.
Claire Waring
EDITOR
Embroidery magazine
---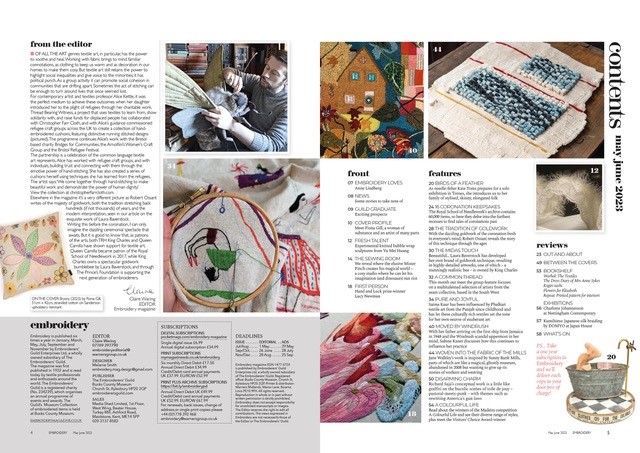 ---