Visit the Knitting and Stitching Shows on the 9th October (in Harrogate) to meet Anne and Sue and pick-up a signed copy of their books.
Anne Kelly will be with us in the morning:
Textile Travels is Anne's latest book and is an exploration of how both local and far away travel can inspire and enhance textile art.  Starting with a discussion of maps in textile art – their iconography as well as how they are incorporated – Anne then goes on to explore the influences of different cultures from across the globe.  Other chapters cover emotional journeys and there is a wealth of tips and techniques throughout the book.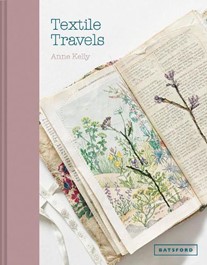 We will have on display her piece, 29 Sisters:
Sue Rangeley will be with us in the afternoon with her book – Embroidery Atelier – Visions and Passions:
Nature, nostalgia, and the romance of the past infuse designs, eclectic themes drive personal passions. Inspirations for stitch explore frivolous 'flower power' fashions, historic mementoes, nature's world, floral beauties of the famous Hidcote Manor and Sissinghurst Castle gardens. Embroidery takes flight with an array of ideas and techniques.
Beautiful photographic images by Michael Wicks capture the essence and meticulous details of the textiles.
We will have on display an exquisite, stitched choker from Sue's ''Just Fab' collection
For tickets, visit the K&SS Website
Use the code: EMBGUILD22 to obtain the Guild discount!