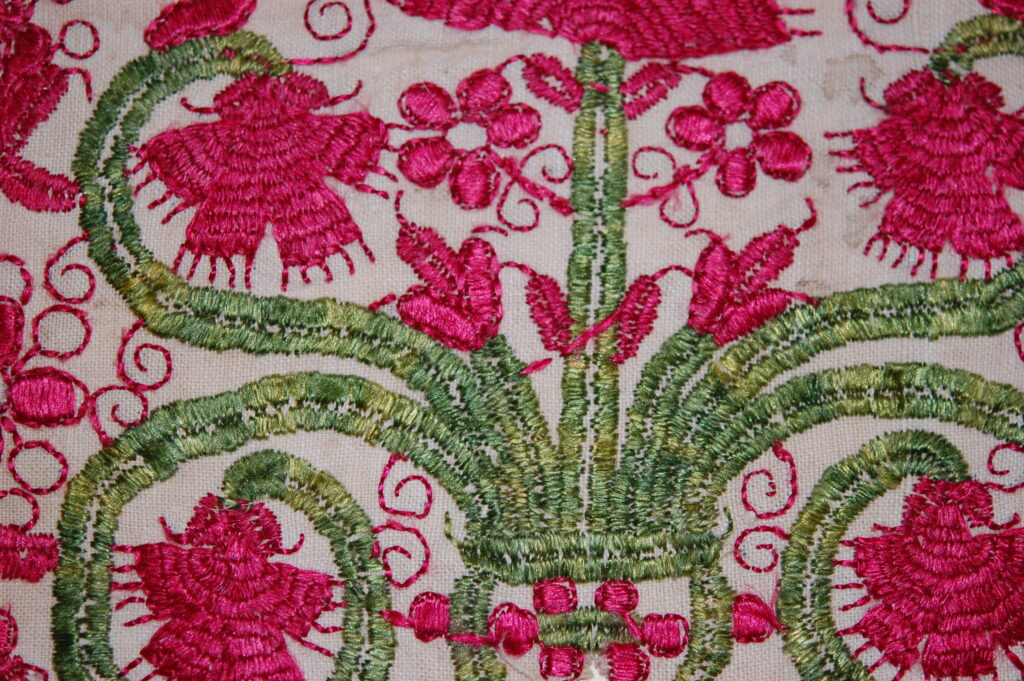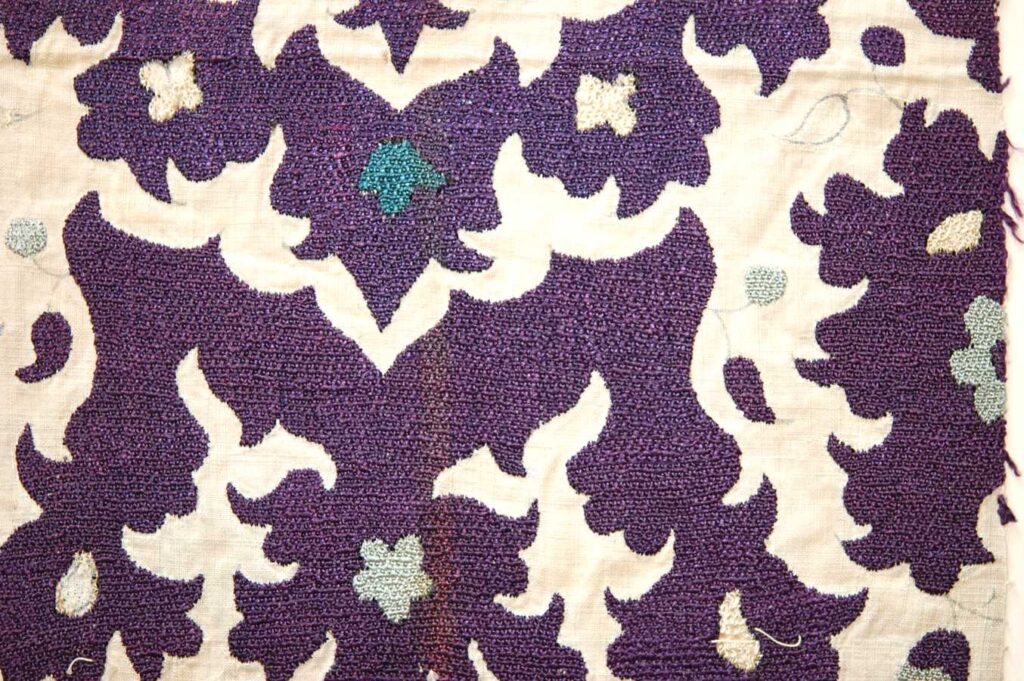 The Embroiderers' Guild holds a number of folios as part of the Embroiderers' Guild Collection, all of which are available to members and affiliated Stitch groups to borrow for a period of a month. They can be used in a variety of ways – as part of research on a topic, as the starting point for an exhibition, a workshop or day school, to look at a new stitch, study of the work of one particular artist or simply for historical or contemporary interest.
Hire is free for Guild members and for affiliated stitch groups. if you are interested in borrowing a folio please contact us for more information. We will ask you for a (returnable) deposit and to pay the cost of delivery both ways.
Contact: folios@embroiderersguild.com
---
Please note: the Guild's folio service is currently 'on-hold' while the service is being reviewed. Please see Guild News for further details.
---
AFRICAN TEXTILES
Includes beadwork neck purses, fragments from animal trapping made by Tuareg nomadic women, embroidered trouser leg
APPLIQUE
Includes fragment of Carrickmacross lace, padded applique, reverse applique, hand and machine embroidery over appliqued fabrics
ARTISTS 4 STITCH
Cezanne in satin stitch; Picasso in cretan stitch; Gauguin in cross stitch; Marc Chagall in stem stitch
BEADWORK
Includes beads on printed fabric; bead braids; part of a bag; angels
BIRDS, BEASTS AND INSECTS B
BLACKWORK A
Includes beads on printed fabric; bead braids; part of a bag; angels
BLACKWORK B
Includes Wessex stitchery sampler 1920s, pattern development board, sampler with blackwork stitches and some goldwork
BOBBIN LACE A
Carrimackcross lace sample 19th century, Irish style crochet late 19th century, Ayrshire lace sampler, bobbin lace borders, French 18-19th century
BOBBIN LACE B
Bobbin lace Flanders 17th century, collar – tatting late 19th century, Bruges lace with pattern
CANVASWORK B
Includes Jacquard stitch sample, history of canvas work sheet, mixed media canvas work, sampler with knitted ribbon
CHAIN STITCH
Examples in feather, crested, whipped and zigzag stitch
CHINESE A
Includes Peking knot design edged with traditional hand twisted silk thread, panel containing interesting symbols in geometric forms, Pekinese stitched sleeve band, cross stitch on very fine linen
CHINESE B
Includes 3 hand embroidered mats using silk threads, Mandarin collar fragment, satin stitched fragment of butterflies, sleeve band of couched metal threads
COLOUR STUDIES A
Harmonious and complimentary colours, tonal movement with machine stitches, colour shading and hand stitched samples
COUNTED THREAD A&B
Thai purse made by Indochinese refugees, counted thread border late 18th century from Morocco, metal thread mat from Turkey 19th century
CREWELWORK A
Flower motif, modern Cretan tile pattern, 3 unfinished samples, fragment from a curtain
CROCHET, LACE & TATTING
Irish crochet border, filet lace, tatting samples, insertion sampler
CROSS STITCH
Sample by Jamie Chalmers (aka Mr X Stitch), fragments from Persia, Norwegian tray cloth, various cross stitch variation samples
DEVELOPING STITCHES
Stem stitch, bullion stitch, wheatear stitch, woven picots
EASTERN EUROPE
Examples from Bulgaria, Hungary, Latvia, Czechoslovakia and Poland, hand stitched borders, bonnet and collar fragments
EDGES
Fringes, needlelace and buttonhole bar edgings, Turkish oyas, free machine embroidery edgings
EMBROIDERY ON KNITTING
Samples of knitting and woven fabrics, slashed knitting sample, bag, sample using double bed needles
EMBROIDERY ON NET
Irish Carrickmacross net mat, collar.
EMBROIDERY ON TRANSPARENT
Historical samples, motif darned on net, log cabin patchwork with sheer fabric, stitch on sheer over dyed fabric
EXPERIMENTING WITH STITCHES
Spiders web, owl picture displaying a variety of stitches, applique, bead stitch, damask stitch, border in felts and braids, using a variety of both fabrics and stitches
EXPERIMENTING WITH STITCHES
Spiders web, owl picture displaying a variety of stitches, applique, bead stitch, damask stitch, border in felts and braids, using a variety of both fabrics and stitches
EUROPEAN COUNTRIES
Samples from Slovakia, Bulgaria, Hungary, Romania etc
FABRIC SPRAY & PAINT
Various methods of spraying paint, fabric paint sprayed onto quilted fabric, samples using transfer crayons, transfer paints on a variety of fabrics
FABRIC DYED WITH STITCH
Machine embroidery on sun dyed fabric, procion dye with hand stitch, trees motif using fabric dyes, sponged brusho
FELT A
Willow cane and handmade felt, handmade felt with inlaid canvas work, felting/punched needle, machine embroidery on felt
FELT B
Felt on knitting, blackwork on felt, wool tops and scrim
FINEST STITCHES
Waistcoat front 1790, Persian trouser leg fragment, Ecclesiastical linen pall, 17th century coif (copy)
FINISHING TOUCHES B
Buttons, cords, braids, tassels
FLORENTINE A or B*
Early 20th century British sample in wool, 3 samples in silk, silk thread worked on linen in bargello and florentine
FRANCE
Bead embroidered plant 1970, sampler on fine linen from 1807, whitework mats on fine muslin, silk shading early 19th century
GERMANY & AUSTRIA
Black cross stitch on linen, fine canvas work from Austria 19th century, fine sample in drawn thread work 1930s, collar on muslin Austrian 1920s
GILDA BARON
Samples of her work, book, methods and articles
GREECE B
Fragment from Greek islands, crochet strip from Cyprus, collar from Crete 19th century, chemise borders 19th century worked in double running and darning stitches, chain and insertion stitches
HAND EMBROIDERY BY HERTA PULS
Book of early samples by Herta Puls
HISTORICAL CHAIN STITCH
Indian fragment 19th century, tambour work sample, varied chain stitches using crewel wools, collar and front British 1925
HISTORICAL BRITISH 18TH CENTURY
Curtain fragment with wool crewel work, fragment of silk waistcoat front, silk apron fragment with metal thread couched over silk embroidery
HISTORICAL BRITISH 19TH CENTURY
Whitework bodice from infant's robe, beadwork bag, Berlin work sampler, Carrickmacross mat
HISTORICAL 17-19TH CENTURY
Fragments illustrating the difference between 17t and 18th century crewel work, bodice from baby's robe using eyelet stitches, pulled thread and cutwork, stool top in canvas work and beads, Florentine embroidery late 19th century using stranded cotton and gold
HISTORICAL 20TH CENTURY
Water lily worked on organdie, net and fabric shapes cut and applied, linen sampler embroidered with cotton threads, white linen collar embroidered with stranded cotton 1930s, fine linen embroidered collar 1910-20
HISTORICAL ENGLISH 1900-1950
Handkerchief 1912 whitework, sample of Florentine/bargello work, sampler English early 20th century, pulled work on evenweave
HISTORICAL ENGLISH 1950-1960
Sampler of drawn thread, borders and units on heavy evenweave, sampler by Moira McNeill, samples by Susan Riley
HISTORICAL 1960s A
Padded frog motif with beads, abstract pattern with design work, belt using abstract design, embroidered letters
HISTORICAL 1960s B
Motif with a variety of stitches, fish motifs using different fabrics/stitch techniques, abstract panel using machine embroidery, applique motif using beads and a variety of stitches
HISTORICAL 1970s A
Leather and beads, couched thread and bead picture, design sheet and picture in free machine embroidery
HISTORICAL 1970s B
Textured stitches including needleweaving, texture with canvas work and knitting, heavily encrusted beadwork, couching and applique of silver lame thread
HISTORICAL 1980s
Picots and prairie points, quilted wall picture with beads, introduction to water dissolvable fabrics
HISTORICAL FASHION
Samples of broderie Anglaise, bodice fronts, Victorian costume pattern and designs, whitework collar
HUNGARY
Borders, towel with braid rosettes, mat on fie gauze, fragment of wool on cotton
INDIA
Shisha work, wedding sash – Sind, tassels from Rajasthan, early 20th century floss embroidery
INNOVATIONS IN CANVASWORK
ITALIAN WHITEWORK
Pincushion cover with reticella square, mat sampled Catherine de Medici embroidery, sachet with characteristics of Punto Antico, purse flap with example of casalguidi technique
ITALY
Cutwork border (17/18th century), sampler of reticella patterns (20th century), border fragment (17/18th century), fragment of bobbin lace (17th century)
LINDISFARNE
Patterns, Celtic bird, Celtic curves, Lindisfarne gospels, letter inspiration and design
METAL THREADS A
Or nue sample, North Indian slipper sampler early 20th century, couched thread samples, garment fragment china 19th century
METAL THREADS B
Persian sash end, goldwork sampler, Turkish towel fragment, collar from Yemen
MIXED LACE C
Samples of Reticella style lace from Cyprus, fragment of Carrickmacross lace, collar tatting late 19th century, knotted lace edgings, knitted lace
MIXED MEDIA
Paris wall textures by Jean Littlejohn, wrapped wires
MOYRA MCNEILL
Pattern building with stitch and sprayed areas, wool canvas work, butterflies folder, vanishing muslin with machine embroidery
NAMED ARTISTS
Samples from Constance Howard, Jan Beaney, Maggie Grey, Muriel Best, Vicky Lugg, Eirian Short
PATCHWORK
Seminole sample, cathedral window, patchwork of transparent fabrics, swimmers using padded patchwork
PATTERN DARNING
Pattern darning on ribbon, part of sleeve, sampler, City and Guilds samples 1987
PLANT FORMS
Flower head 1967, French 18th century fragment, machine embroidery on acetate, experimental piece using Casalguidi
PLASTICS
Hand and machine embroidery on plastics, clingfilm bonds, Ayrshire work interpreted using plastic packaging, plastic meshes and canvas sampler
QUILTING (in two parts both sent together)
Traditional Techniques B: Variation and Innovation Queen Anne quilting, machine cord quilting, trapunto quilting, Italian quilting on linen
RIBBON WORK
Ribbon embroidered floral motif, folder of experimental samples, woven fabric using ribbon, ribbonwork on canvas, machine embroidered ribbon
RUNNING STITCH 1 & 2
Sampler, pattern darning, patchwork, sashiko, kantha, basic applique, Italian smocking, history of pattern, variations
SAMPLERS
1880s English sampler on fine linen, English sampler of drawn thread and hardanger
SCANDANAVIA X 2
Linen banner with wool stitching from Denmark, modern Danish purse, pair of linen cuffs with hardanger embroidery, Norwegian mat with cross stitch
SHADING
English wool 17th and 18th century samples, Chinese embroidery, split stitch example, description of techniques
SICILY 17TH CENTURY
Panel of Christ child in silks and metal thread, mat cutwork on linen, border fragment in drawn threadwork, fragment of red silk backstitch on burrato, plaited loops
SMOCKING
Smocked samples, fragment from Balkan states, Italian smocking, smocked fans and Dorset wheel buttons
SPAIN
Linen and silk costume fragment from Andalusia 18-19th century, 19th century bonnet, ecclesiastical silk panel with gold purls and spangles, dagger sheath 17-18th century
STITCHED GRIDS
Stitched patterns to modify cotton ticking, rug canvas woven with ribbons, black on white pattern darning, colour studies on evenweave fabric
STUMPWORK
Methods of slips, stitched by Kay Dennis, methods of wires and moulds, figurative stumpwork, The Vegetable Patch
TEXT
3d samples, blackwork letters, machine stitched samples, cross stitch samples, monograms
THE VARIETY OF HAND STITCHES
Samples of edging stitches, samples of linear and filling stitches, handmade cords, bullion knots
TURKEY A
Trouser girdle with typical needle weaving, sampler of Turkish stitches, 'Pesend' double darning fragment, 19th century professional tambour work
TURKEY B
Refugee mat 1890s, typical Turkish stitches, purse with Oya needlelace, 19th century motif using silk and metal thread
TURKEY C
Towel with border of needle weaving, sash embroidered with silk and metal thread, 19th century fragment, samples of fine embroidery
WHITEWORK
Baby's bonnet crowns 919th century), mat, 1860 Broderie Anglaise, Italian 20th century
YOUNG EMBROIDERERS/JETS
29 colourful boards showing a variety of stitches and techniques suitable for junior embroiderers and textile students