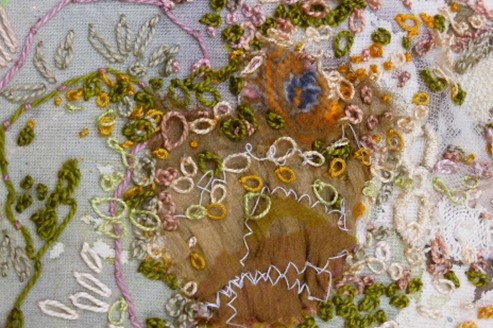 Exhibition Guide (Harrogate Nov 2022)
We are delighted to be showing a selection of items from the Guild Collection spanning the decades from 1900 onwards
Each piece on display has been given a number. This index refers to the pieces according to that number.
For more information, there is a full catalogue at the exhibition desk. This includes information about some of the Artists who created pieces on display.
Our Collection of embroidered works and textiles is extensive and unique, but it requires care and attention.  We hope you enjoy seeing the items from the Collection and will wish to support us so that we can stage future exhibitions.  You can join us or simply donate on the home page of this website: www.embroiderersguild.com – every contribution is much appreciated.  Thank you.
1. CRAZY PATCHWORK
Crazy patchwork (detail), maker unknown, early 1900s
This item was donated to the Guild but we do not know its provenance.
Crazy quilts were popular from the late 1800s through the early 1900s. They featured irregular shaped pieces of fabric sewn to a found fabric and then outlined with embroidery stitches. The most elaborate crazy quilts were made of silk satins and velvets and heavily embroidered with images of flowers and animals.
2. BERLIN WOOLWORK SLIPPER
Berlin Woolwork Slipper, 1900S, 19X 14in
Pair of unfinished slipper panels; canvas worked with silk and wool. The design is of a floral motif in orange, gold, yellow, white, green and brown and is worked in padded satin stitch. The ground of crimson padded petit point is part-worked.
3. GOLD POCKETS
Gold Pockets, 1900
Four of these were gifted to the Guild by Queen Mary.  Unfortunately, that is currently all the information that we have.
4. PANEL
Panel by Mabel Gibbs , early 20th century, 52 x 38cm
Mabel studied at Camberwell School of Arts and Crafts specialising in ecclesiastical embroidery and she became Superintendent of the Banner and Needlecraft Dept of the Church Army prior to WW2.  This panel shows a central figure of St Cecilia playing a musical instrument surrounded by an interlaced star motif. To the left and right centre are crosses. Above the figure is a dove descending and below, the initials HIS.  The areas between are filled with fruits and scrolling foliage stitched on buff silk in gold and green, red brown, blue, yellow, white, and silver.
5. ST. FIACRE
St. Fiacre (detail) by Joan Openshaw, 1962, 52 x 40cm
Rectangular panel of a dull pink furnishing satin embroidered with a depiction of Saint Fiacre, the patron Saint of Gardeners. He is pictured in a garden holding a spade in one hand and a book with the letters RHS in the other (Royal Horticultural Society?) with a glasshouse and stylised plants in the background, worked in coloured filofloss and Filoselle threads, plus some metal threads, framed and glazed.
6. BLACK BEADED DRESS PANELS
Dress panels, 1900,41 x 33cm and 54x26cm, possibly Jet
Black beaded dress panel with a symmetrical lacy design with fleur de Lys and swirls.
7. TEA COSY
Lace Tea Cosy, 1920s, 29 x 21cm
Carrickmacross. double sided depicting a dragon. Made in India by donor's mother, Julia Credd (nee Adie) who taught lace making at a Christian Mission in Khammamett, South India in the 1920s.
8. TAMBOUR FLAPPER DRESS PANEL
Dress panel, 1920S, 97 x 59 cm
French. Purple chiffon ground with silvered bugle beads and clear beads and cut paste jewels in claw settings forming a regular geometric pattern. Acquired from Mrs M Halligan.
9. FAN LEAF
Fan Leaf, 1920s, Semi-circular 66 x 33cmin
Fan leaf of stiffened white organdie, hand dyed pale green and pink (the green at the edge and the pink towards the centre). Machine embroidered with a rococo style design of flowers heads, leaves, scrolls and cartouches with geometric fillings; worked in silk thread in shades of pale blue, pink, green, cream and brown using straight, zigzag and speckling stiches, plus cut work, added picot edging. The fan leaf may have been mounted on sticks at some point. Maker Miss SIippey, possibly associated with Singer Sewing Machine company.
Mentioned in 'Machine Embroidery – A Complete Guide', Christine Risley, Studio Vista 1973
10. EVENING BAG
Evening bag, 1932-33, 15.5 x 15.5 cm
Embroidered evening bag attached to a metal frame with metal chain handle. Both sides are of fine petit point embroidery in polychrome threads which creates an intricate floral design. Lined with cream satin with an inside pocket which contains a mirror. Purchased in Vienna.
11. FRENCH BEADED BAG
French beaded bag, 1930s, 14.5 x 18cm
Bag with metal clasp and green stone (some stones are missing from the frame). Repeat design of sprays of roses in diaper pattern, lined with cream sateen.  Embroidered in grey and brown and pink. Possibly French.  Acquired from Miss Greatorex.
12. POCHETTE
Pochette, 1930s, 66 x 41cm
Art Deco pochette silk on canvas lined with furnishing fabric. On front there is a jungle scene featuring an elephant and two tigers. On the reverse is a small scene of a town with an airplane in the sky.
13. FELT FLOWER COSY
Small cosy, 1930s, 18 x 21 cm
Made by Lady Hamilton Fairley. Small tea or coffee cosy with felt flowers, felt work, applique, floral design.
14. TEA COSY
Tea cosy, 1940s, 38 x 27 cm
Tea cosy and quilted liner decorated with flowers.
15. TEA COSY
Tea Cosy by Elsie Myrtle Williams, 1915, 23 x 38cm
Made by Elise whilst she was a student at the Royal College of Art.
16. TEA COSY
Tea cosy, date unknown
Cover for a tea cosy with no padding. Linen embroidered on one side with a design of naturalistic standing poppies with twining stems and leaves. the reverse is embroidered in the centre with the monogram EMJ set within a diamond plus a simple border around the edge worked in twisted silk thread using pale greens and blues, yellow, cream, pink, rush and brown. Stitches used are chain, herringbone, long & short, buttonhole, feather, fly and speckling. The two panels of the cover are joined by short buttonholed bars passing into buttonholed eyelets around the curved edges of the panels placed 2 cm apart.
17. SAMPLER
Sampler by Nancy Kimmins, 1948, 47 x 37 cm
Rectangular panel of beige corded furnishing fabric; embroidered with a design of leaping fish, shells and waves; worked in laid and couched work in stranded cottons in shades of grey, pink, green and blue. Long and short stitch with bars of couched thread laid across at intervals, mounted over board. College work of Nancy which was worked and exhibited whilst she was a student at RSN.
18. SWISS COTTAGE
Swiss Village by Constance Thomson, 1930-31, 32 x 27 cm
Worked whilst Constance was a student at the Royal College of Art. Rectangular panel of canvas, embroidered with a design of a village in the snow, worked in tent stitch using polychrome silk threads.
19. FIREBIRD
Firebird by Beryl Dean, 1950, 38 x 37cm
Picture of a female dancer in the role of Firebird.  Metal thread, Or nué couched with polychrome silk threads.  Framed and glazed. Exhibited in 'Threads in Time' exhibition in Salisbury and South Wilts Museum
20. EXOTIC BIRD
Exotic Bird (maker unknown), mid 20th century, 67 x 41 cm
Exotic bird perched on a branch and surrounded by multi coloured flowers and foliage.  Slubbed cotton background, stranded cotton thread, chain, feather, detached chain, satin, whipped, bullion knots.  Featured in Annette Collinge's book 'Embroidered Treasures, Birds' (Search Press).
21. DELPHINIUMS
Delphiniums by Beryl Dean, 1930,
Oval panel of oyster coloured satin, embroidered with a design of blue delphiniums and mauve poppies, worked in silk threads using long and short and directional stitches, mounted on a stretcher and glazed within a blue painted frame.
22. MAKE DO and MEND BROOCHES
Make do and Mend brooches, maker unknown, 1940s
Worked in Dorset button style.
23. EGG COSY
Egg Cosy by Winfred Clayton, 1950, 10 x 10cm
English quilting. orange fabric and tassel.
24. EGG COSY
Egg cosy by Nora Jones, 1950s, 10 x 10cm
Egg cosy of pale green linen, piped with white. Embroidered with a flower motif based on the willow herb and worked in chain, stem and satin stitches in white, black and brown.
25. EGG COSY
Egg Cosy hand embroidered cream lined
26. EGG COSY
Egg Cosy, 1950s, 10 x 10cm
Egg cosy of white flannel with white organza overlay which is worked with silk threads in floral pattern of pendant fuchsia flowers and buds with leaves. the edge is finished in green blanket stitch. Made by student of Gloucester College of Education
27. CHILD's DRESS AND BONNET
Child's smocked dress and bonnet, date and maker unknown
Cotton material patterned with lips in red white and blue fabric 4 ties at top of bodice smocked design and handmade buttons in red and white on back. Matching smocked bonnet
28. THE TINDER BOX
The Tinder box by pupil at Wolverdan Secondary Modern School, 1950s, 26 x 31cm
Mounted panel depicting a scene from Hans Christian Anderson's fairy tale. A male figure salutes a grey creature sitting on a platform.
29. HEN PANEL
Hen panel, by J Evans (Bromley College), 1950s, 35 x 37cm
Mounted panel depicting a hen made from gingham and other fabrics embellished with surface stitch.
30. ANGEL PANEL
Angel Panel (image cropped), late 1950s, 32 x 51 cm
Panel depicting an angel done in applique, surface stitching and metal thread. Worked by Leslie Sillitoe from the Mary Boon Secondary School on grey felt in applique. Grey, turquoise, white, black and gold are the main colours. Applied darned net, felt and satin, gold thread and stitching created a good balance of colour and design. It was the prize winning entry in the EG Schools Challenge Cup 1959 in the colour and design category. Her prize was a book token.
Featured in 20th Century Embroidery in Great Britain 1940-63 by Constance Howard.
31. PANEL
Panel by Mary Rhodes *, 1959, 39 x 52 cm
Pictorial embroidery depicting a girl with two deer in a landscape setting with two trees in the background. The ground fabric is yellow rayon silk and the picture has been worked in various applied fabrics, including felt, net and gauze plus hand embroidery in cotton threads. Mounted, framed and glazed in a frame which incorporates panels of olive green velvet.
32. COCKEREL
Cockerel, by Lawrence Morgan Sears, 1950s, 26 x 26cm
Square panel of fine canvas embroidered with a picture of a stylised cockerel, his foliage reduced to blocks of patterns and the background to blocks of colour with patterning. Worked entirely in tent stitch using fine polychrome stranded cotton. Bequest of L M Sears (one of four pieces of his work in the Collection). Featured in Annette Collinge's book 'Embroidered Treasures: Birds' (Search Press)
33. RED FELT BAG
Felt Bag, 1950s, 23 x 44 cm
Red felt bag embroidered with white thread (possibly machine?) Linen buttons. Produced by Inner London Education Authority (ILEA).
34. LE VENDAGE
Le Vendange, by Marjorie Kostenz. 1950s, 35 x 51cm (panel 1 of 2)
One of a pair: Female figure on red woollen background, holding a bunch of grape-like fruits and with two leaves at her waist level, mounted in a black card mount, red and black and green and brown and blue.
35. LE VENDAGE
Le Vendange, by Marjorie Kostenz. 1950s, 35 x 51cm (panel 2 of 2)
36. COCKEREL
Cockerel by Alison Liley, mid 1950s, 29 x 40cm
Rectangular panel of white double weave fabric decorated with a cockerel worked in a variety of hand stitches in shades of brown, yellow, grey, green and pink threads stretched over a cardboard.
Featured in book 20th Century Embroidery 1940-63 by Constance Howard and Embroidered Treasures: Birds by Annette Collinge (Search Press).
37. MERRY-GO-ROUND HORSE
Merry Go Round horse by Jane Lemon, date unknown, 26 x 28 x 9cm
3D Toy in the shape of a merry go round horse, worked with kid, felt saddle with applied PVC felt and beads and embroidery. Stitched in white, gold, purple, blue and red with mane and tail made from gold thread.
38. DONKEY
Toy Donkey, by child from Purley Grammar School, 1950, 31 x 21cm tall
Toy donkey with straw hat and saddle and bridle. Main body felt embroidered with circles and lines. Stitched by child from Purley Grammar School.
39. TOY ROUNDABOUT
Toy Roundabout by Nancy Kimmins, date unknown, 28 x 39cm
Rectangular panel of beige corded synthetic fabric worked with a depiction of a roundabout holding three toy figures in different shaped boats, hanging from a canopy and set on a carriage with wheels and a turning handle. Worked in applique of dull turquoise and grey fabrics and hand embroidery using polychrome silks threads in a variety of stitches.  College work done by Nancy who studied at Bromley College of Art under tutor Iris Hills.
40. OCTAGONAL MAT
Octagonal mat (detail)* by Nancy Kimmins, date unknown, 44.5cm across
Octagonal mat or table centre of yellow silk with a layer of white organdie on top; divided into eight segments with a design of four oriental figures (two mandarins and two Chinese ladies) in four opposing segments and two lanterns, a fish and a butterfly in the alternative segment. Worked in applied intermediate layers of plain and printed fabrics and machine embroidery on the top layer using straight and zig zag stitched in coloured silk and cotton threads; the cover is bordered with dull pink silk with top stitched zigzag patterning. Example of machine embroidery for the National Diploma in Design.
41. RIVER SCENE
River Scene by Sylvia Green, Mary Boon School, 1950s, 42 x 36cm
A panel depicting a river scene (presumably the River Thames in London). The image is on a green fabric background.  stitched by Sylvia Green from the Mary Boon School, London.

42. SUSSEX GARDEN – SEPTEMBER
Sussex Garden – September by Julia Caprara, date unknown, 58 x 78cm
Mixed textiles on a painted background, overstitched
43. 22 'VACANT' by MARIA THERESA FERNANDE
22 'Vacant' by Maria Theresa Fernandes, 1977, 41 x 64cm
Rectangular wall panel of abstracted design incorporating machine stitched painted calico, areas of padding applied net and fragments of printed newspaper. Signed in ink Maria Theresa Fernandes 1977 the panel is mounted in a brown card mount and set in an aluminium frame. From the Constance Howard collection.
44. THE FOUR ELEMENTS
The Four Elements by Jean Draper, 1982, 51 x 41cm
Rectangular panel using layered organdie, muslin, felt, applied fabrics, hand embroidery, ribbons and waxed and knotted linen threads to create a land or seascape picture the edges of the fabric have been deliberately burnt, mounted and housed in a Perspex box frame.
45. DESIGN BOARD (left)
46. DESIGN BOARD (right)
Design Boards by Jennifer Grey, 1961
36b sample for a table runner (on left). Slate blue and grey linen with houses on each end in black and white stitching with some grey and turquoise. Yellow linen windows are let into the ground fabric. Mentioned on page 143 in 20th Century Embroidery in Great Britain 1940-63 by Constance Howard
36a design on thin card by Jennifer Gray (on right). given by NDS 1962.
47. HORIZON IV
Horizon IV by Eleri Mills, 1970, 54 x 54cm
Embroidered panel abstract imagery with applied geometric shapes and hand stitching on cloth including painted cloth. A handwritten label, stapled to the reverse of the panel reads 'Horizon IV/Eleri Mills from the collection of Constance Howard'.
48. SAMPLE
Sample by Susan Riley, 1950s, 25 x 15cm
Small panel for use on table linen. Designed by Susan and stitched by Nora Jones. White linen with grey backstitch and chain stitch in orange and green in stranded cottons embroidered by Nora Jones. Referred to on page 116 in 20th Century Embroidery in Great Britain 1940-1963 by Constance Howard.
49. SAMPLES
Samples by Susan Riley, 1950s
Design and sample painted design on card by Susan Riley, based on fruit and fish for use on table linen.
Sample on khaki in red and black stitches worked by Nora Jones.
50. THE OWL ON THE BRANCH
The Owl on the Branch (detail)* by Margaret Kaye, Early 1960s, 55 x 37.5cm
Collaged rectangular panel of dull purple fabric, woven with regular stubs of black, worked with applied small, raw edged strips and pieces of fabric to create the impression of an owl perched among branches. The fabric pieces include velvets, tweeds and jerseys in dark blues, purples, crimsons, black and rust colours, hand stitches in various threads worked on top. Exhibited at The Needle's Eye (Stoke on Trent, Gateshead, Plymouth) and Winter's Breath and Summer's Season, EG at Hampton Court Palace.
51. PHOEGLE
Phoegle by Moyra McNeill, 1960s, 63 x 82cm
Rectangular panel of dark green furnishing fabric, worked with a depiction of a bird which is apparently half phoenix, half eagle, worked in applied pieces of fabric (felt, net, synthetic silver, plain woven), couched cord machine stitching and applied beads, framed with wood but not glazed.
52. NUCLEAR FISSION
Nuclear Fission by Joy Clucas, 1962, 55 x 78.5cm
Rectangular panel of black cotton fabric, embroidered with an abstract design of lines, joined and curving, running parallel to each other and crossing one another, with two bursts of colour and condensed areas of stitch, worked in fine machine embroidery in straight and sating stitch using white thread, plus couched cord, cream, orange and pink. Exhibited at The Needle's Eye, Gateshead, Plymouth and Stoke on Trent.
53. FIG TREE IN THE SUN
Fig Tree in the Sun by Audrey Walker, 1971, 64 x 72cm
Abstract design worked in a variety of threads in straight stitch and Cretan stitch on a background of furnishing fabric. Colours used are green, purple, pink and orange. Framed but not glazed.
54. MEMORY BOX
Memory Box by Audrey Walker, 2010, 25 x 27cm (notes were included inside the box)
A wooden box with covered top panel, embroidered with a female face, half hidden by a curtain. Some couching. Hand stitching in greys, beige, brown, white. Contains design material, photos and written notes.
55. HEATHERS
Heathers by Norah Wilkes, 1983, 28 x 36cm
Rectangular panel of natural calico, worked with an abstract representation of heathland, applied scraps of synthetic net darned with silk threads and free stitching plus some areas of oil crayon on the ground fabric, worked in shades of pink, green, yellow, grey and brown. This is one of a series depicting the landscapes of Cannock Chase.
56. DANAE
Danae by Richard Box, 1971?, 46 x 38cm
Preparatory sketch or study for EG, depiction of a male figure against an abstract background. Paint (including gold and silver) on paper, mounted framed and glazed.
57. STRAWBERRIES
Strawberries by Heide Jenkins, 1980s
A collection of padded and embroidered 3d strawberries and leaves hand made in satin.
58. RONDEL
Rondel by Evelyn Luter, 1967, 35 x 69cm
Rectangular panel of curtain fabric printed with blocks and circles of orange, brown and white, the printed design has been embellished with applied net and felt, some over padding, applied orange and red beads, couched wool and surface stitchery, the colours used are bright orange, cerise and purple, stretched over board. Done at a Monday evening class. Referenced to by Constance Howard in Embroidery summer 1983 'Fifty years of Embroidery and its Value as a Legitimate Artform'
59. BLACKBERRY PLANT
Blackberry Plant by Diana Springall, 1966, 33 x 72cm
Rectangular plant of bright orange and pink striped furnishing fabric embroidered with a stylised plant form motif. Worked using applied fabrics (plain woven velvet and faux leather). Couched cords and wool threads, surface stitchery using wools in shades of green, pink, brown and orange. Medal for Free Hand Embroidery. Designed and worked by Diana Springall.
60. TATSUMI NAKA
Tatsumi Naka by Diana Springall, 1984
3d design of coiled felt tubes and circular silk thread mounds. One of a series inspired by Japan. Donated to the EG members' auction held in 2008.
61. THE SUNDIAL
The Sundial by Vicky Lugg, date unknown, 43 x 41cm
Stitched panel with fabric surround
62. GREEN CROSS SECTION
Green Cross Section by Jan Beaney, 1960s, 24 x 32cm
Framed hand and machine embroidery
63. CURVES AND CURLIQUES
Curves and Curliques by Joan Hake, 1994, 21 x 25cm
Unglazed goldwork with coloured hand embroidery in blue, purple and pink. Hand quilted frame.
64. PLASTICS SAMPLE
Plastics Sample by Dorothy Walker, 1982
Zig zag and straight stitching used on an acetate ground incorporating shisha glass. Used as panel in canvas shoulder bag.
65. COUNTED THREAD SAMPLE
Counted Thread Sample by Rosemary McCall, 1981
Britain 1981. black cotton on fine canvas stitches arranged in bands – four bands of gold thread laid with black thread. An interesting modern interpretation of blackwork. designed and worked by Rosemary McCall (Birmingham Polytechnic School of Embroidery)
66. SAMPLE
Sample by Arthur Ridley, 1994/5,
Canvas work and machine embroidery sample including use of plastic. worked by Arthur Ridley during his second year on the BA (Hons) Embroidery course at Birmingham Polytechnic 1994/5. surface mounted on black card.
67. COUNTED THREAD SAMPLE
Counted Thread Sample, Rosemary McCall, 1981
Britain 1981. Worked in rust coloured cotton thread and gold thread on natural even weave fabric. designed and worked by Rosemary McCall (Birmingham polytechnic School of Embroidery)
68. MORWENNA's TASSELLED SLEEVE
Morwenna's Tasselled Sleeve, Jan Messent, 2001, 48 x 42cm
Design for sleeve
69. RED AND BLUE
Red and Blue by jenny Bullen, 1990s?, 13 x 17in
Fabric collage, hand embroidery, kantha style. From the Constance Howard collection.
Jenny was the first Embroiderers' Guild scholar in the 30 years and over category.
70. BLACKWORK
Blackwork, maker unknown, 1980, 34 x 26cm
Rectangular panel of fine ivory linen worked with a design of flowers, leaves and fruit using a variety of blackwork filing patterns couched gold thread floral design
71. FOLIO
Folio by Val Campbell Harding, early 1990s, 30 x 34cm (closed)
Stitched fold-over folio which opens out. Heavily stitched in golds and purples and blues on velvet.
72. EYE
Eye by Anita Radford, 1980
73. LANDSCAPE
Landscape by Verina Warren, 2015
Landscape with fields and hedges, worked in paint on fabric and card with hand and machine stitching, bordered with coloured silk threads wrapped around card. Exhibited in Winter's Breath and Summer's Season (Hampton Court Palace), also Traditions – Embroidery in Context and The Needle's Eye.
74. UNNAMED PIECE
Unnamed by Linda Cathcart, 1984, 41 x 41 cm
Glasgow School of Art 1984. Square panel of hand dyed silk, machine stitched in grey thread with fragments of scrim, hand-made paper. Applied lattice of fabric and thread, wrapped paper strips and wires, sewn with scraps of silk. From an exhibition Growing through Stitch 2015
75. TIMMY WILLY
Timmy Willy by Kay Dennis, 1990, 34 x 32cm
Sheep, ram, squirrel, hedgehog, "Timmy Willy" and mouse on wheat ear. Mounted together square board. made by Kay Dennis for study folio with accompanying notes.
76. WATCH THE BIRDIE
Watch the Birdie by Barbara and Roy Hirst, 1989, 27 x
Stumpwork on panel depicting golfers called Watch the Birdie. Machine embroidery by Roy Hirst, and embroidered by Barbara Hirst. In Beautiful Stitch 2010.
77. PENELOPE KIT
Penelope Kit with instruction booklet and threads, 1940s, part worked
A kit specially designed for HM Forces comprising an envelope originally containing linen printed with design, needles (now missing), threads and design. Not for sale to general public. The design is of Anne Hathaway's cottage. A small section has been embroidered.
78. CIRCULAR MAT
Circular Mat by Dorothy Benson, 1940, 46 x 46cm
Machine embroidered mat featuring four birds and scrolling plant forms. Stitched with pale pink silk and aluminium threads on rayon organdie.  Featured in Embroidered Treasures: Birds by Annette Collinge (Search Press)
79. BALLOONS
Balloons by Muriel Best, 1970s?, 31 x 26cm
All hand stitched with straight stitches coloured thread
80. FLOWER LETTERS
Flower Letters by Muriel Best, 1970s?, 28 x 33cm
A collage of small envelopes and flower shapes
81. PANEL
Panel by Vicky Lugg, date unknown, 15 x 20cm
Small panel with coloured organza flowers, white straight stitch daisies and speckling
82. WHITE NETTLE
White Nettle by Barbara Hudson, 1963
Machine embroidered design with applied fabrics on a blue background. Given by '62 group.
83. RAINBOW MEDUSA
Rainbow Medusa by Eirian Short, 2010, 42 x 42cm
84. WALNUT PURSES
Seven Walnut purses by Muriel Best, date unknown,
Machine stitched cords, beading, covered walnut shells
85. KIMONO
Kimono by Robin Giddings, 1982, 82 x 128cm
Kimono style overjacket using cotton and synthetic gauze and brocade fabric printed and woven with gold used in fragments between a mesh of black lurex and machine stitching; made using vanishing muslin; kimono style construction with open side and under arm seams.
86. UNNAMED PIECE
Unnamed piece by Jeanette Pekari, 1980s
Calico solidly machine embroidered with brilliantly coloured threads often using contrasting threads in bobbin and needle. grotesque figures within bands of strips edges bound in bright blue velvet.
87. GUILD LEAFLETS
Guild Leaflets by various authors
We chose four from the selection of leaflets that we hold in the Guild library
88. COFFEE COSY
Coffee Cosy by Valerie Tulloch, 1963, 23 x 31cm
Coffee pot cover made up of 4 panels of dark and light grey linen. The two larger panels are embroidered with plant designs, worked in a variety of stitches in white thread. The edges are piped with bright pink rouleaux which is also used to form a tab at the top. Cover is wadded and lined with quilted pink poly cotton fabric. Made by Valerie Tulloch. Designed and worked for C&G hand embroidery examination (231) May 1963.
89. COFFEE COSY
Coffee Cosy by Eirian Short, 1962, 28 x 19cm
Panel from a coffee pot cosy padded and quilted cream coloured linen applied with a series of 4 oblong shapes of light brown linen embellished with surface stitching in darker thread. Gift from Eirian Short.
90. COFFEE COSY
Coffee Pot Cosy by Mrs M Webster, Early 1960s, 31 x 26cm
Coffee pot cosy front panel of yellow / green linen. Back of mauve linen, sides of purple linen. Front embroidered with large stylised tree or plant design, back with two stylised figures and the sides with sprig border. Worked in black, green, white and shades of purple thread. Padded and lined with woven yellow and white fabric which has also been embroidered with scattered star motifs in mauve thread. Designed and worked by Mrs M Webster.
91. TEA COSY
Tea Cosy by Nora Jones, 1968, 37 x 26cm
Made and given by Nora Jones. Green linen cover hand embroidered on one side with plant motifs in green and cream threads.
92. TEA COSY
Tea Cosy by Dorothea Nield, 1940s, 38 cm wide
Semi circular tea cosy with embroidered design of trees and hills with birds flying around a birdbath in blue and grey burden stitch. On reverse are 3 birds in flight stitched with grey bodies, cream and blue wings, all in long and short stitch. Made by Dorothea Nield.
Featured in "50 years of embroidery and its value as a legitimate artform", Embroidery magazine 1983; 20th Century Embroidery 1940-63 by Constance Howard, and Embroidered Treasures: Birds Annette Collinge (Search Press)
93. TEA COSY
Tea Cosy by Mrs Orskey, 1950, 36 x 21cm
Tea cosy cover of coffee coloured fabric. On both sides there is an applied section of coffee and white striped fabric with a zig-zag top. This section has applied white tape and is embroidered on the points of the fabric with dark grey and white cotton stranded thread to create a series of stylized tree motifs. On the top of each point a white fabric covered button with a simple star of stitched lines has been applied.
94. BAG
Bag by Sue Rangeley, 1980, 821 x 18cm
Silk bag spray dyed, and machine quilted. Flower motif in top right-hand corner, lined with silk, button and loop fastening. Purple, green and white. Label inside Sue Rangeley Embroidered Originals.
95. SAMPLER OF WESSEX WORK
Sampler of Wessex Work by Mrs Forster, 1918
Linen embroidered with cotton threads of blue, rust, black and pale green using a variety of pulled thread stitches, straight and double running stitches, geometric design with centre panel inscribed 'Peace with Victory. 'Work finished while the promised signal sounded over London and we know that the great war had ceased' The feast of St Martin of Tours in the yr 1918 XI o'clock am non nobis domina non nobis : sed nomini tuo da gloriam'. Box lower left reads 'Sample of new work called island stitching', and lower right 'design and work by m.f. Armistice Day'.
96. SAMPLER OF WESSEX WORK
Sampler of Wessex Work, 1918, 36 x 28cm
Rectangular sampler of Wessex stitchery, evenweave linen worked with single strand cotton threads of light blue, green, red, yellow and cream. Worked in buttonhole, drawn thread work, running stitch and cross stich with inscription 'A little sampler for the month of May work'd while skies were warm and flowers were gay And all good British people humbly pray'd that peace with victory be not delay'd
97. Panel
Panel, maker unknown, 1960s
98. Muriel Best
'J' for Jubilee by Muriel Best, 1970s, 22 x 32cm
Text reads "Nineteen Seventy Seven, Jubilee, Jubilee, Jubilee. Hand stitched flowers in eyelets, buttonhole, French knots, straight line daisies.
99. PORTRAIT
Portrait of Constance Howard, photographer unknown
100. PORTRAIT
Portrait of Louisa Pesel, artist unknown
Framed pencil portrait of Louisa Frances Pesel 1870-1947, first President of the Embroiderers' Guild 1920
Louisa was born in Bradford took up embroidery from an early age. She became an expert in its history, styles and techniques. She travelled abroad to Egypt and India and taught embroidery to Greek school girls. After WW1 she taught traumatised soldiers to sew, believing that making beautiful things was therapeutic. She also worked on the Victoria & Albert Museum embroidery collection, and wrote books and articles.
101. SEVEN PANELS OF WIMPOLE STREET
7 Panels of Wimpole Street by North West branch members, 1961, 43 x 23cm per panel
Seven panels worked with representation of the building, 73 Wimpole street, the former Embroiderers' Guild HQ. The design is the same but each panel is worked in a different technique including couched cord, applique, blackwork fillings, darning on canvas and pulled thread.
102. VISITORS' BOOK
Visitors' Book and box by Margaret Nicholson (binding by Heidi Jenkins), 69 x 31cm
Design by Margaret Nicholson and based on St Claire, the patron saint of embroidery. Embroidered in Or Nué and surface stitchery for the cover of the EG Visitors Book which was taken to Japan with a major exhibition based on the Embroiderers' Guild Collection. The book is bound in black silk by Heide Jenkins and is protected in a black silk box with the EG emblem in gold on the cover. The first person to sign the book at the opening was Princess Hanake.
The exhibition was sponsored by HK TV and the Tokyo Times and was taken to Tokyo and Osaka in 1991.
---
THANK YOU
We would like to say 'thank you' to all those who contributed to the creation of this exhibition. The Trustees who spent many (joyful) hours looking through boxes and unwrapping pieces, then taking pictures, listing and noting all the chosen items. Discover Bucks and Will Phillips (who looks after the Collection at Halton) for his advice, helping us with the database, and climbing ladders to find boxes on the top shelf. To the Trustees who helped with the mundane administrative tasks of typing labels and the catalogue. To the hanging team at Alexandra Palace and Harrogate who had the unenviable job of deciding what went where (never quite the same in both places!). To the volunteers who helped with stewarding and chatting with those who came to see the exhibition. Our thanks to you all for the enormous amount of time and energy you gave to creating this exhibition.
Our Collection of embroidered works and textiles is extensive and unique, but it requires care and attention.  If you have enjoyed this exhibition, please consider supporting us in our care of the Collection.  You can join us or simply donate via the home page on this website.  Thank you.
The Embroiderers'Guild