Late in 2022 I started working on a bid to Arts Council England (ACE) to undertake a pilot project to digitise our collection. Digitisation has been an ambition of the Guild for several years. However, it needed the right time and resources to progress a project.
ACE expressed an interest in the Guild applying for their Unlocking Collections grant fund. The Trustees made the decision to apply, and I took on the job of developing the proposal. This included the project plan, the budget build and planning community engagement with several artists. We worked with an experienced bid writer to help with the submission to give us the best chance of success.
During the writing of the bid and associated documents I spoke to experts on digitisation to learn what might be needed for the project. We decided not to build our own website to host the photos and to use a room at Halton, the Bucks Museum storage location, to take the photographs rather than taking the collection off site. We also decided to use existing resources for managing the project and administration during the photography sessions, as this would contain the costs.
The bid for a pilot project was submitted in March 2023, and we were told in May 2023 that we were unsuccessful. The feedback was that our community engagement element was not strong enough, and they didn't understand how the online workshops that we proposed would work.
While it was disappointing for the grant application to be turned down, we will be using money from a recent legacy and restricted funds we have been able to release for this purpose to progress the pilot project and having done all the planning work we are now ready to take the project forward in late 2023.
Previous photos of the collection have never been properly labelled and stored in an easily useable way. This project will change that.
I will be working through existing photos to try and identify what we already have and see if they are of sufficient resolution to be useable, so we don't repeat unnecessarily some of the work that has been done.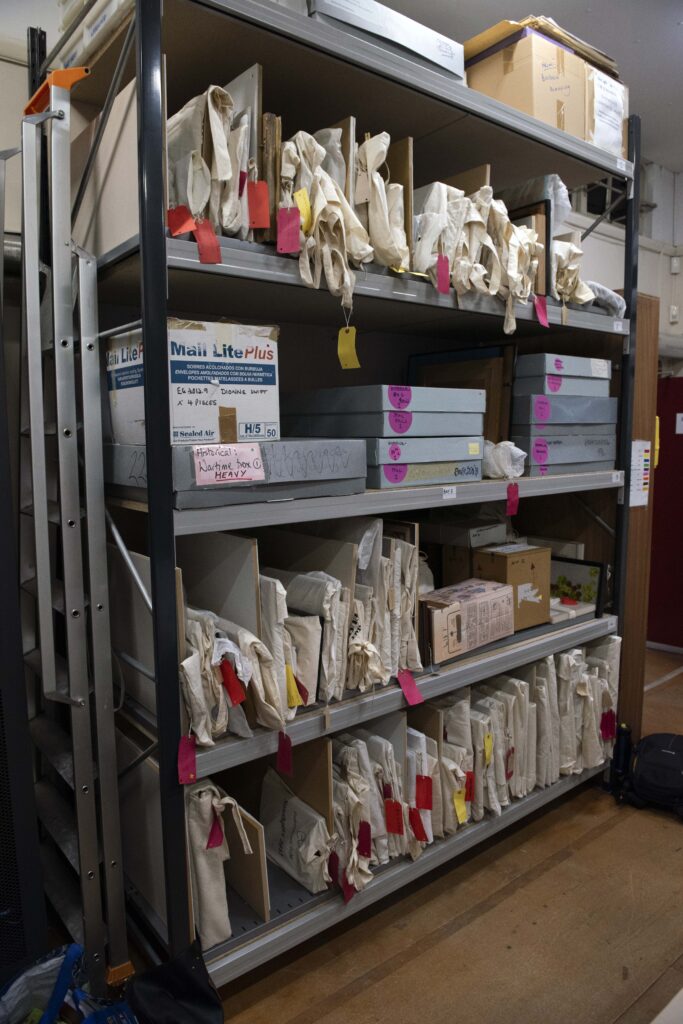 This is a long-term project as the photos of our room at Bucks Museum store show. We've around 6,500 items to photograph and that's before we start on the folios. Some items are small and simple to photograph – e.g., egg cosy, however clothing and other 3D items need more time to position and identify what needs to be photographed in close-up.
Each item will have a photograph of the whole item (front and back if necessary) and then close-up photo(s) of stitching, embellishments, techniques etc.
Having quality photos will help us in several ways:
Develop education materials based on our collection
Enable publishing projects featuring items from the collection.
Enable us to commission research into our collection (possibly seeking grant funding)
Encourage interest in our items for possible travelling exhibitions.
We are not asking for donations to assist with the initial project. The recent Collection donations for archival boxes and tissue paper will not only help store the new items we've acquisitioned but will help us to repack items after they have been photographed.
I will keep members updated with progress reports in the Bulletin and as soon as we have photos available on a website, we will let members know where to see them.
Volunteering on the project
If you are local to Wendover/Halton, Buckinghamshire and are interested in being involved there may be an opportunity to help. However, we do not have scope for lots of people – both due to space available and the need to ensure everybody understands the processes to be followed.
The following skills are all required to assist us:
Ability to use laptop, email, and Excel to record information about pieces as well as record project progress.
Ability to accurately follow processes established on the project to ensure consistency of results.
Knowledge of embroidery techniques, fabrics and threads to record accurate descriptions of pieces and their condition.
If you are interested in helping, please get in touch by emailing receptionist@embroiderersguild.com
Mark the email FAO Anne Haigh and include a summary of your skills please.
---
Anne Haigh
Third Sector Trustee
---